Weddings
You may have seen one of our hats online or whilst out and about but you just can't get to our studio in Lewes. Do not worry there is so much we can do nowadays with technology, even buying a hat!
If you email us a picture of yourself in your outfit we can advise which hat shape will suit you and the occasion. If  your outfit is being made by a dressmaker it is likely we will be able to view it online and be sent photographs at every stage. If you would like we can use the material from the outfit for a perfect match. We also offer a hand dyeing colour matching service.
Many of our smaller cocktail pieces are attached to a hidden Alice band so the fit is universal but larger brim and crown hats  do need to be made in your own individual head size to ensure complete comfort on the day.
To take your head measurement, take a dressmakers tape measure around the head, at the level of your middle forehead, where you would wear a hat. It's very simple measurement to take but we would recommend having a friend to do it, it's tricky peering in the mirror with a tape measure trying to read what it says in reverse!
The customer in the picture above lives in Canada and emailed us to order a hat for her daughter's wedding taking place in the UK. She couldn't make it to our studio so everything was done by email and photographs, including the last minute change of colour to the trimming as her jacket hadn't arrived with the rest of her outfit and at the very last minute a new one had to be purchased.
When working with a customer we always start by looking at the dress design. Catrina Dunn's wedding dress was by Joanne Fleming Design. Catrinas dress echoed a 1930's era and was cut from the softest silver grey silk satin. The dress had a central panel of detailing in a diamond shape which was embroidered with bugle beads and Swarovski crystals.
During Catrina's first appointment with us she said she wanted her headdress to be a statement. For this to work with the dress and Catrina's small frame it was important to keep the piece soft and not too large. When designing I took inspiration from a large feathered leaf and the diamond shape on the dress combining the two together.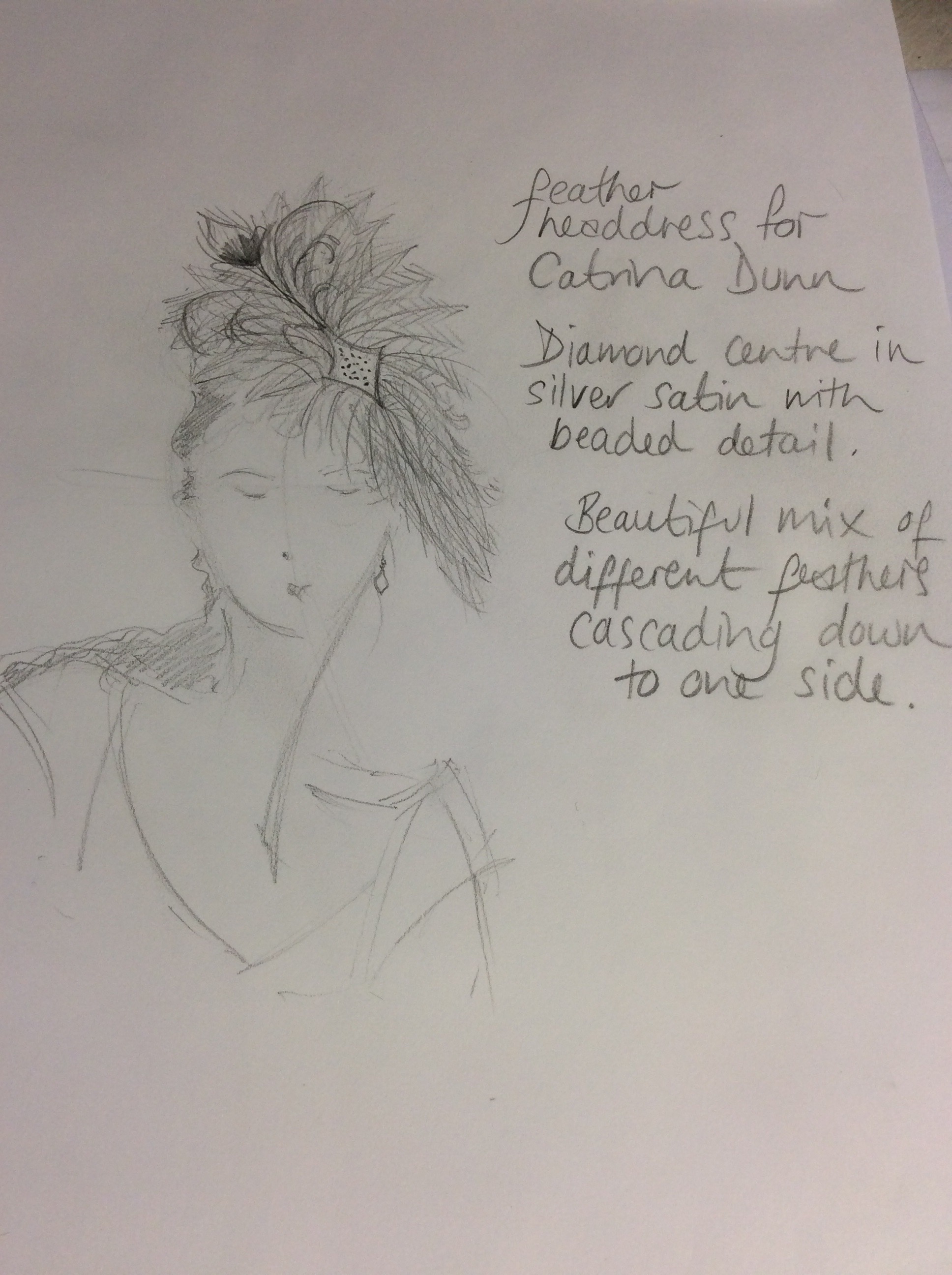 Four types of feathers were hand dyed to the palest shade to match the dress. A diamond shape was cut and covered in the silk and then hand sewn with beading, crystals and embroidery. Another diamond is cut to sew each individual feather on in various lengths to create the desired shape.  A layering technique was used as some of the feathers were not much thicker than hair.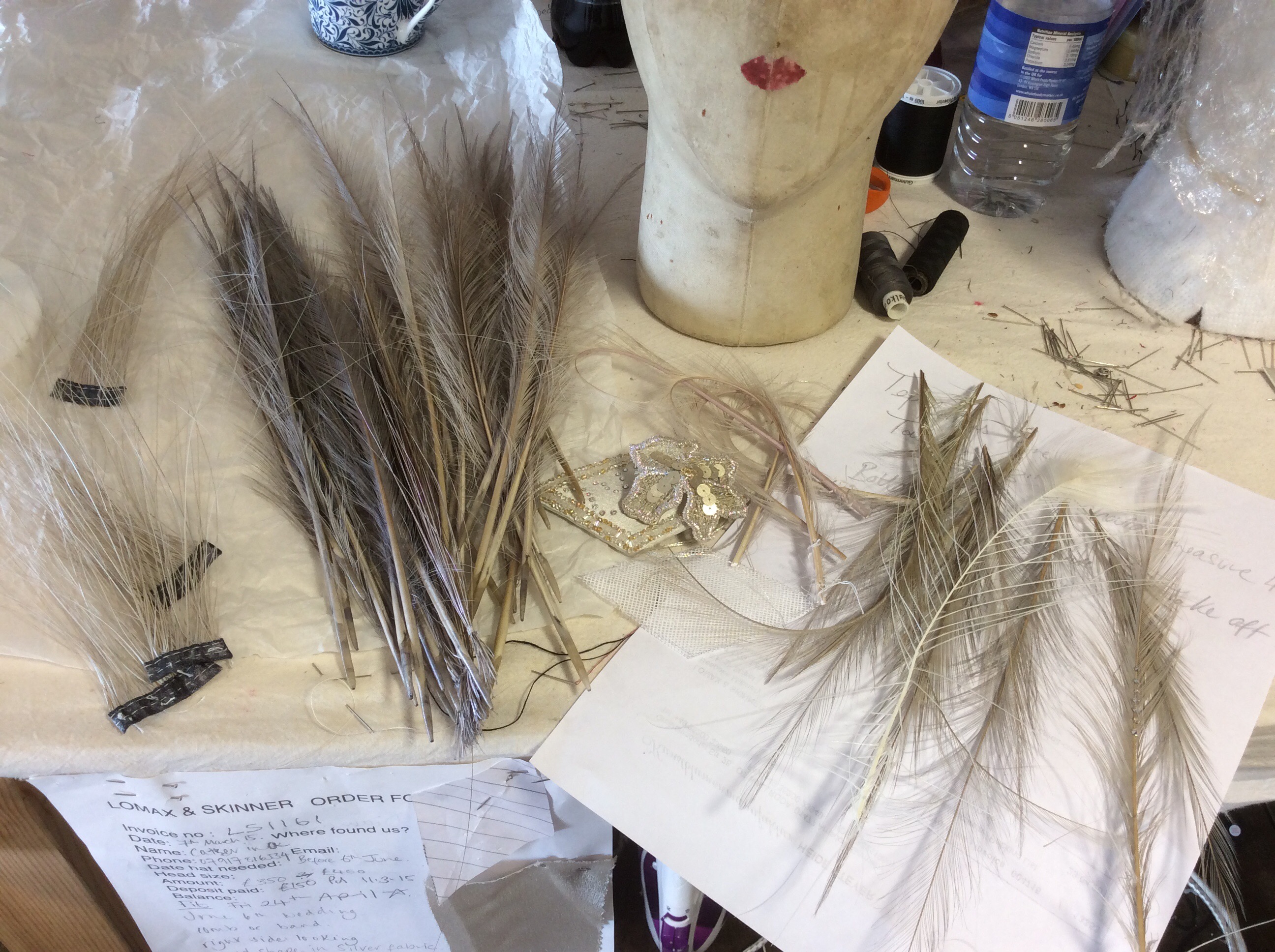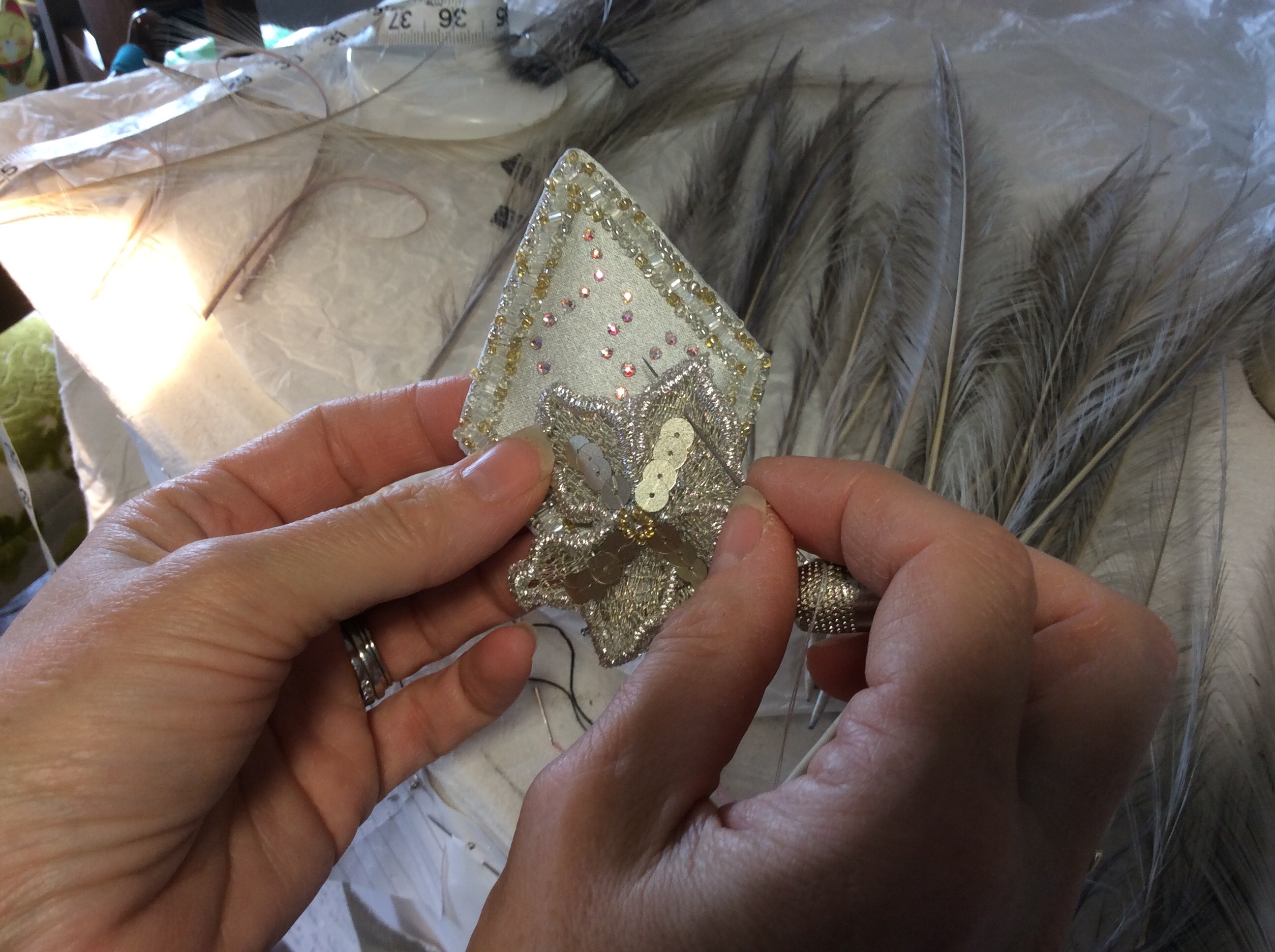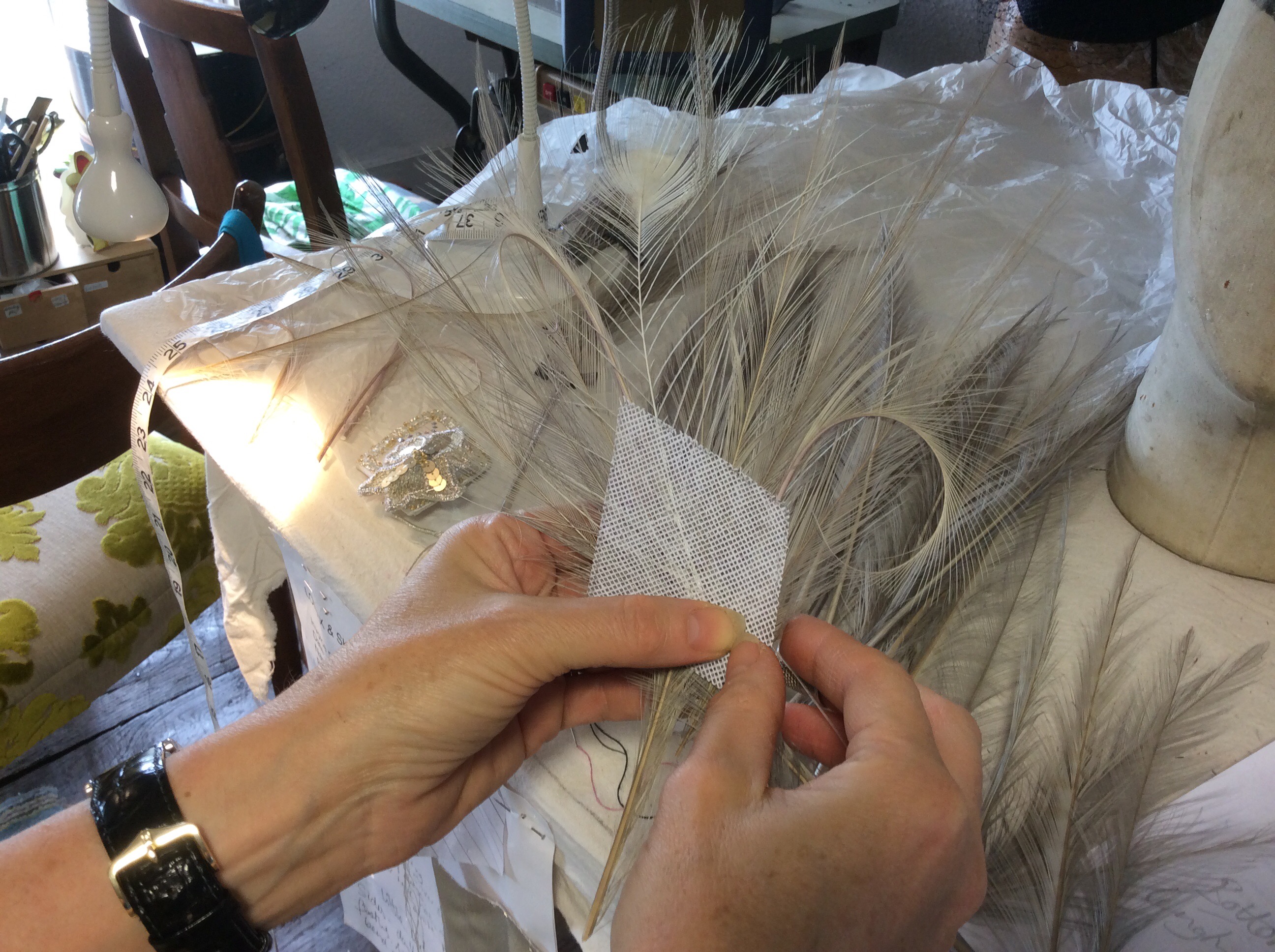 It's important to have a fitting to check the proportions so any adjustments can be made. An incredible 35 hours was spent making Catrina's headdress! But all worth it as Catrina was delighted and loved every minute wearing it which makes our day too. Many thanks to Catrina for sending us some photos of the day taken by Ben Joseph Photography.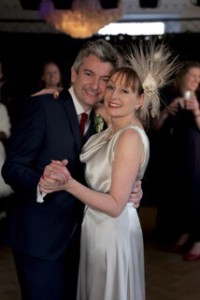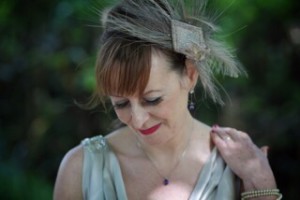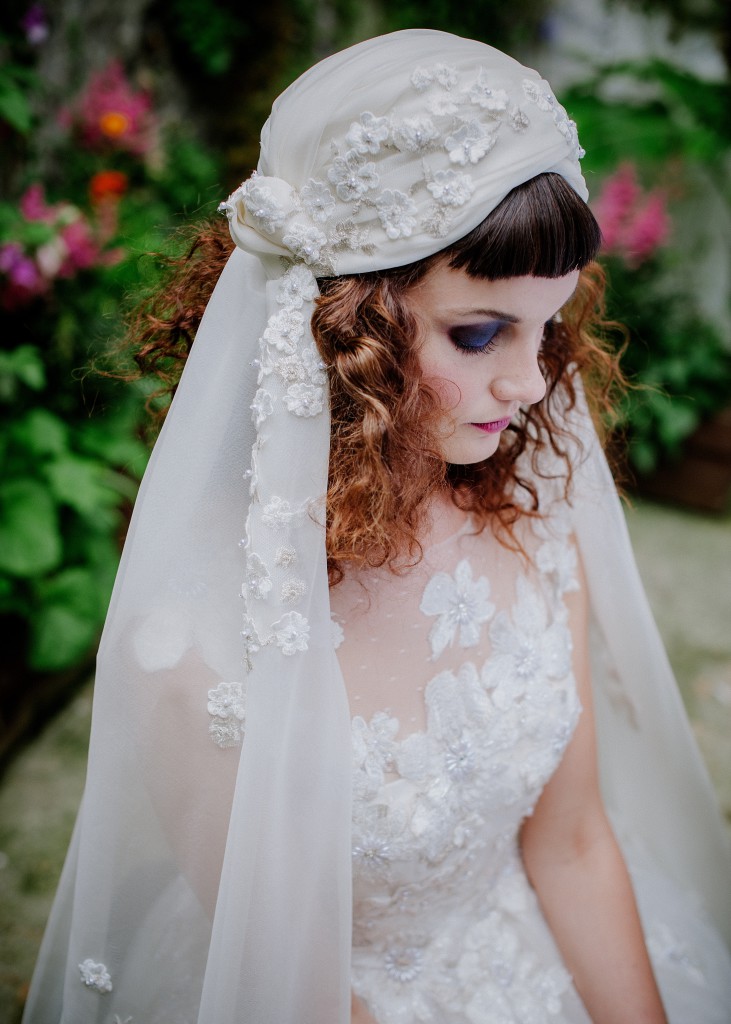 Millinery is for the moments that matter. The moments you want to remember, and the moments you want to be memorable. That's why we love weddings at Lomax & Skinner. The chance to be part of someone's big day, and to share the excitement of creating a beautiful headpiece or veil that will live on in photographs and memories for the rest of their life.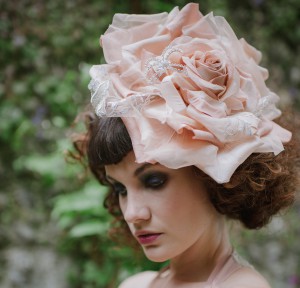 Bridal style
We don't have a set style for our bridal millinery and we are not dictated by bridal fashions. Our style is led by the bride, her personality, the location of her wedding, and of course, her dress. We have created showstopping avant garde millinery for high fashion weddings, and chic minimalist headpieces for intimate civil gathering, and loved both equally.
The joy of wedding millinery design is in making the one hat, veil or headpiece that is the perfect finishing touch to a dream outfit. Not everyone dreams of their wedding day, but everyone wants to look and feel their best, so our bridal style is to perfectly interpret the wishes of the bride.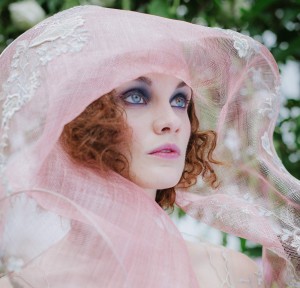 Bridal design
We are couture milliners, so there are no restrictions on what we can achieve. We have sample designs for our brides to try on (some of which are pictured here), but every element of the design can be tailored and personalised. Each part is hand sewn and hand shaped, which gives us the freedom to realise any design.
It is not just the physical shape of the piece that can be altered, we can hand dye the fabrics and trimmings to perfectly match any dress. Alternatively, we can use dress fabric as coverings, and to make trimmings. The embroidered flowers on our Esme veil headdress (pictured) were cut out from a dress fabric and hand sewn.
All of our designs are handmade to the highest standard, but for our bridal millinery, we believe in particularly close attention to detail. Feathers are hand trimmed and dyed, and the fabrics are carefully selected. We work to create a piece that will be treasured for generations. Some of our clients have chosen to display their hat after their wedding.
The Lomax & Skinner bridal service
Planning a wedding can be a stressful business, so our bridal service is focussed on making the millinery design process stress-free, and fun. Between us we have many years of experience in designing and making bridal hats, headpieces and veils, so we can offer expert advice and smooth service. For details of our couture design process, please see here.
Like our hats, our bridal service can be tailored to the exact requirements of the bride. We can create co-ordinating pieces for the bridesmaids, Mother of the Bride and Mother of the Groom, and even buttonholes for the gentlemen. We can also arrange group consultations and fittings, so why not consider a bridal millinery party?
To discuss any part of our bridal service, or for an informal discussion of your wedding plans, please contact us at studio@lomaxandskinner.co.uk, or call 07949 123693.
The beautiful dresses in this shoot were designed by www.joanneflemingdesign.com.
We were really excited with our recent collaboration with Joanne Fleming www.joanneflemingdesign.com  Joanne creates stunningly beautiful dresses taking inspiration from 1900's to the 1950's.
Her exclusive designs are worn by stylish women wanting something different, elegant and feminine. Her designs can be seen gracing the pages of fashion magazines and catwalks worldwide.
The dresses are made from exquisite laces from Italy and France, hand dyed and intricately crafted into contemporary designs.
Jo asked us to design a capsule collection of bridal hats and headdresses for a garden photo shoot she was planning with her amazing designs.
We went over to Jo's studio in Brighton and choose some beautiful laces to work with along with some old photographs to use as inspiration. We designed a range of six hats for the shoot. Two of the hats were large pieces and took about a week each to make including creating the toiles and hours of hand sewing delicate pieces of lace.
Jo was delighted with all of the hats and we had fun on the shoot.