Hat Book
Thanks to Becky Weaver the editor of the downloadable monthly millinery magazine HATalk for the lovely review of our book in this months edition.
Becky interviews Rachel and the magazine also features one of the step-by-step projects from the book, our Felt Trilby
HATalk is an excellent resource for both beginners and experienced milliners, a place to meet, share and offer advice and guidance as well as being packed full of all things millinery. Also included this month is coverage of the 2017 Melbourne Cup Carnival and a feature on Kizzy McKeown, the creator of the HATalk Hat of the Month.
Please click on the below images to read the review.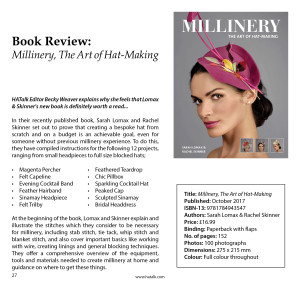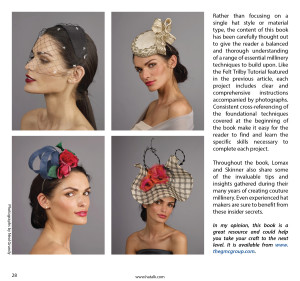 Thank you so much to everyone who came to our book launch on Saturday. We both feel totally overwhelmed by the incredible support through our family, friends and customers and the community of Lewes. A very enjoyable evening was had at the Depot Cinema, cafe and restaurant it was great to celebrate the book after all the hard work.
'Millinery: The Art of Hat-Making' comes out on 7th October. You can order it through Amazon or Waterstones or direct from the publishers GMC Group www.gmcbooks.com or if you are local in Lewes pop by our studio to get a signed copy!
The book provides fully illustrated step-by-step instructions for 12 stunning hats and headpieces, which are suitable for a wide variety of occasions and require minimal tools and materials. The eye catching designs include a felt trilby, a chic pillbox, a leather cap, a feathered headband, a sparking cocktail hat and a bridal headdress.
Novices will find all the advice they need on the tools, materials and techniques required to make the hats. Full of inspirational photography, this beautifully designed book shows you how to achieve high-end, couture results at home.