Ascot
If you are like us, then your first thought on deciding on a day at the races is not to rush out and buy a copy of the Racing Post to mug up on form, but rather to start thinking about what to wear. Dress codes are strict at the grandest events in the racing calendar, and not following the dress code to the letter can mean you are not admitted to the enclosure for which you have a ticket.
Our advice is to plan your outfit in stages, starting with a dress and jacket, or similar, then shoes, and finally the finishing flourishes —your hat and handbag. Your milliner should be able to hand dye the materials and trimmings for your hat to match your outfit and shoes, so when going along for your first design consultation, make sure you bring the rest of your outfit to ensure a polished overall look.
We also advise that if you are planning a statement hat, then keep this in mind when choosing the rest of your outfit. Were you to opt for a large all-over print or bright feather textured jacket, then you might find you want to go for a more low-key hat when you come to have it designed. The job of a hat is to frame your face and give you confidence, not swamp you. So, if you would like a high impact hat, then you should probably keep the rest of your outfit understated. This also means you can restyle the clothing with a different hat for another occasion.
Ascot
Fancy dress or promotionally branded items are not permitted anywhere inside the grounds during the Royal Ascot meeting.
Royal Enclosure
Formal daywear is required for ladies in the Royal Enclosure.
Hemlines must fall on, or just above the knee
Trousers are not permitted
Strappy, halterneck and off the shoulder tops or dresses are not allowed. Straps must be one inch or greater in width
Your midriff must not be exposed
Jackets and shawls are allowed, but the outfit underneath must comply with the dress code
Fascinators are not allowed, and hats must now have a base of 4 inches or more in diameter. This means cocktail hats are permitted, but they must have a proper base of sinamay or similar. An insubstantial cocktail piece with only a headband base is not acceptable. We advise you ensure your milliner is aware of this requirement, as it is a new addition to the dress code.
For girls aged 10-16 formal dress is required, but a hat or is optional. A fascinator may also be worn.
Grandstand Admission
The rules are more relaxed for ladies in the grandstand enclosure, but ladies are still expected to dress formally, and a hat, headpiece or fascinator must be worn at all times. Strapless or sheer tops are not permitted and although trousers may be worn, but they must be full length and not paired with strapless or sheer tops, even under a jacket or shawl. As with the Royal Enclosure, midriff-baring tops are not allowed.
For girls aged 10-16, the dress code is the same as for the Royal Enclosure.
Silver Ring & Heath Enclosure
There is no formal dress code, but smart dress is encouraged.
Flat Season (May to October)
The general dress code for meetings outside of Royal Ascot is that ladies are encouraged to dress as for a smart occasion.

Epsom
Fancy dress is not permitted in the Queen's Stand or Duchess's Stand during the Investec Derby Festival.
Derby Day (Queen's Stand)
Ladies must wear formal day dress. Sleeveless vest are not permitted, and trousers must be full length and part of a tailored trouser suit. A hat or substantial fascinator must be worn.
Girls must be dressed smartly, but hats or fascinators are not required.
Ladies Day (Queen's Stand)
There are no set rules on outfit, but ladies are asked to wear a fascinator or hat. Casual clothing, such as sportswear, trainers or jeans is not allowed.
Girls should be dressed smartly, but headpieces are optional.
Derby Festival Grandstand Enclosure
Smart dress is requested, which means that sleeveless tops, midriff-baring tops, sportswear and trainers are not acceptable. Denim is allowed, but it must not be frayed or ripped.
Derby Festival Grandstand Hospitality
The rules are as above for the Grandstand Hospitality area, but ladies are requested to wear a hat or fascinator.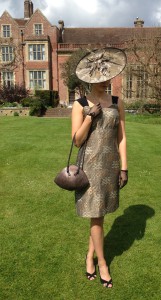 Glorious Goodwood
Goodwood is the most relaxed of the season's race meets, so there are few formal dress code requirements, but fancy dress is not permitted in any Enclosure.
Goodwood Fesitval
Richmond Enclosure
Ladies must dress smartly, and are encouraged to wear a hat or fascinator. Shorts, jeans and sportswear are not permitted.
Other Enclosures
There is no formal dress code, but flat or wedge-heeled shoes are recommended as there are grassy areas, and areas of decking to navigate.
Overall, the most important thing to remember when considering what to wear for Ascot, Epsom or Goodwood is to enjoy the process of planning. After all, there are not enough occasions left to get dressed up and enjoy a day of fun and finery, — with a flutter thrown in. So happy planning, and good luck on the day.