News
This beautiful film by Cheng Han documents the putting together a couture fashion shoot. All gown production and styling is by Joanne Fleming Design.  Couture millinery by us!
Thanks to Becky Weaver the editor of the downloadable monthly millinery magazine HATalk for the lovely review of our book in this months edition.
Becky interviews Rachel and the magazine also features one of the step-by-step projects from the book, our Felt Trilby
HATalk is an excellent resource for both beginners and experienced milliners, a place to meet, share and offer advice and guidance as well as being packed full of all things millinery. Also included this month is coverage of the 2017 Melbourne Cup Carnival and a feature on Kizzy McKeown, the creator of the HATalk Hat of the Month.
Please click on the below images to read the review.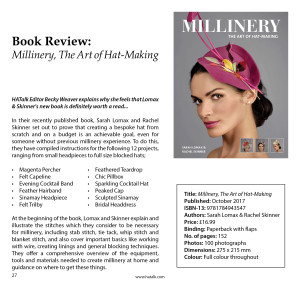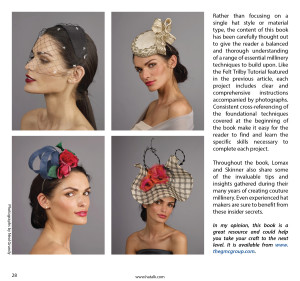 Thank you so much to everyone who came to our book launch on Saturday. We both feel totally overwhelmed by the incredible support through our family, friends and customers and the community of Lewes. A very enjoyable evening was had at the Depot Cinema, cafe and restaurant it was great to celebrate the book after all the hard work.
'Millinery: The Art of Hat-Making' comes out on 7th October. You can order it through Amazon or Waterstones or direct from the publishers GMC Group www.gmcbooks.com or if you are local in Lewes pop by our studio to get a signed copy!
The book provides fully illustrated step-by-step instructions for 12 stunning hats and headpieces, which are suitable for a wide variety of occasions and require minimal tools and materials. The eye catching designs include a felt trilby, a chic pillbox, a leather cap, a feathered headband, a sparking cocktail hat and a bridal headdress.
Novices will find all the advice they need on the tools, materials and techniques required to make the hats. Full of inspirational photography, this beautifully designed book shows you how to achieve high-end, couture results at home.
  'Where Fashion meets Art' is a contemporary slant on how nature inspires and shapes art in a myriad of sublime forms.
Hosted in Susie Monnington's secret hideaway studio, this collaboration melds all that is best from the sussex countryside with the height of fashion through the form of bespoke millinery.
The juxtaposition of classical natural imagery and three dimensional fashion design is innovative and intriguing. The striking silhouettes of the Lomax & Skinner designed hats (art forms in themselves) against Susie's romantic water lily paintings adds an exciting dimension that wouldn't be out of place in a London gallery or on the catwalks of Milan.
This fresh take on exhibiting art leaves one breathless. If you see only one show this season, see this.
Thrilled to see a hat I made for Mike Jagger's Voodoo Lounge Tour is on display at The Saatchi Gallery London now but it finishes on 4th September so hurry if you want to go. It was along time ago that I made it, 22 years to be precise back in 1994 !
You may have seen one of our hats online or whilst out and about but you just can't get to our studio in Lewes. Do not worry there is so much we can do nowadays with technology, even buying a hat!
If you email us a picture of yourself in your outfit we can advise which hat shape will suit you and the occasion. If  your outfit is being made by a dressmaker it is likely we will be able to view it online and be sent photographs at every stage. If you would like we can use the material from the outfit for a perfect match. We also offer a hand dyeing colour matching service.
Many of our smaller cocktail pieces are attached to a hidden Alice band so the fit is universal but larger brim and crown hats  do need to be made in your own individual head size to ensure complete comfort on the day.
To take your head measurement, take a dressmakers tape measure around the head, at the level of your middle forehead, where you would wear a hat. It's very simple measurement to take but we would recommend having a friend to do it, it's tricky peering in the mirror with a tape measure trying to read what it says in reverse!
The customer in the picture above lives in Canada and emailed us to order a hat for her daughter's wedding taking place in the UK. She couldn't make it to our studio so everything was done by email and photographs, including the last minute change of colour to the trimming as her jacket hadn't arrived with the rest of her outfit and at the very last minute a new one had to be purchased.
When working with a customer we always start by looking at the dress design. Catrina Dunn's wedding dress was by Joanne Fleming Design. Catrinas dress echoed a 1930's era and was cut from the softest silver grey silk satin. The dress had a central panel of detailing in a diamond shape which was embroidered with bugle beads and Swarovski crystals.
During Catrina's first appointment with us she said she wanted her headdress to be a statement. For this to work with the dress and Catrina's small frame it was important to keep the piece soft and not too large. When designing I took inspiration from a large feathered leaf and the diamond shape on the dress combining the two together.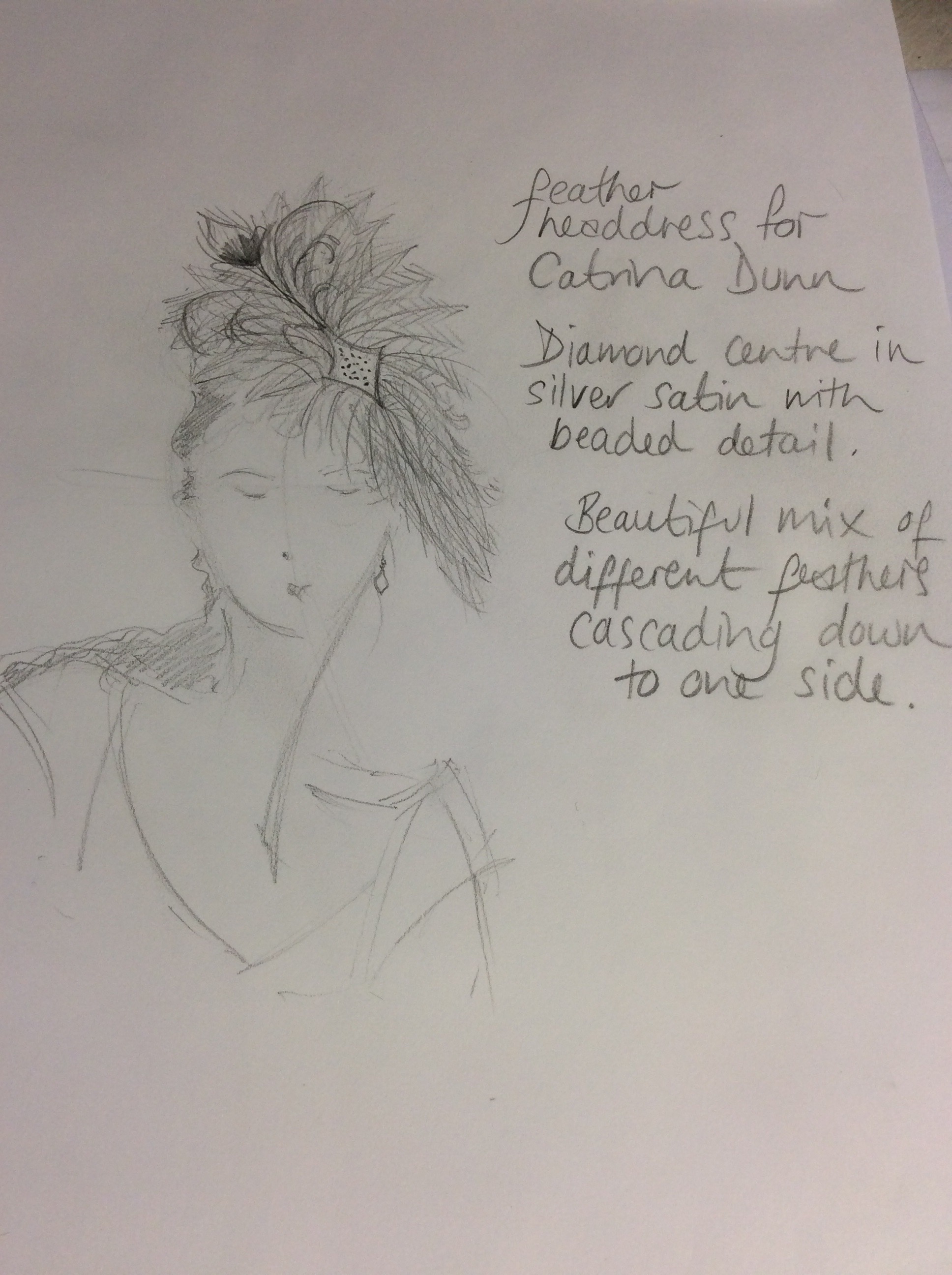 Four types of feathers were hand dyed to the palest shade to match the dress. A diamond shape was cut and covered in the silk and then hand sewn with beading, crystals and embroidery. Another diamond is cut to sew each individual feather on in various lengths to create the desired shape.  A layering technique was used as some of the feathers were not much thicker than hair.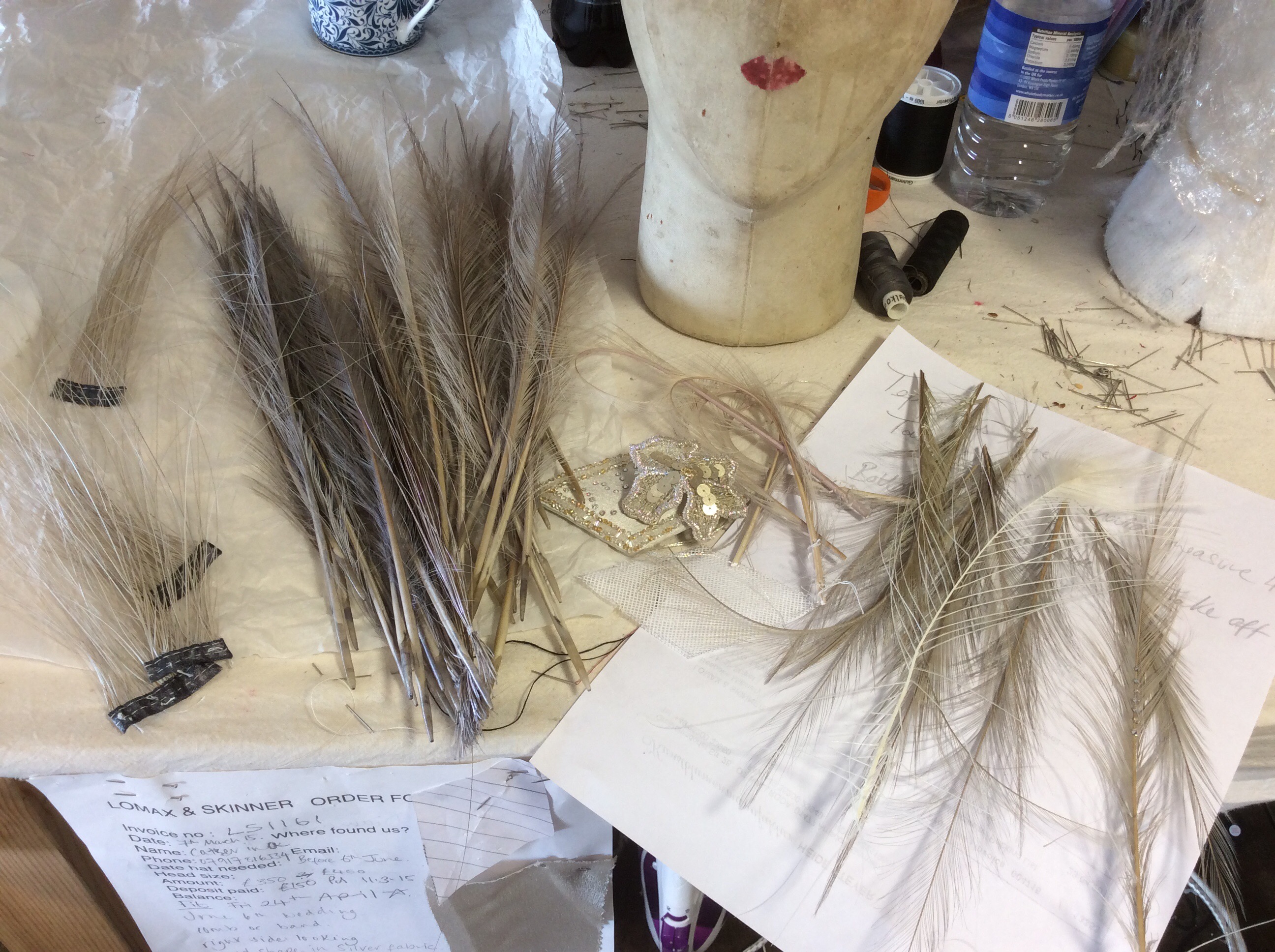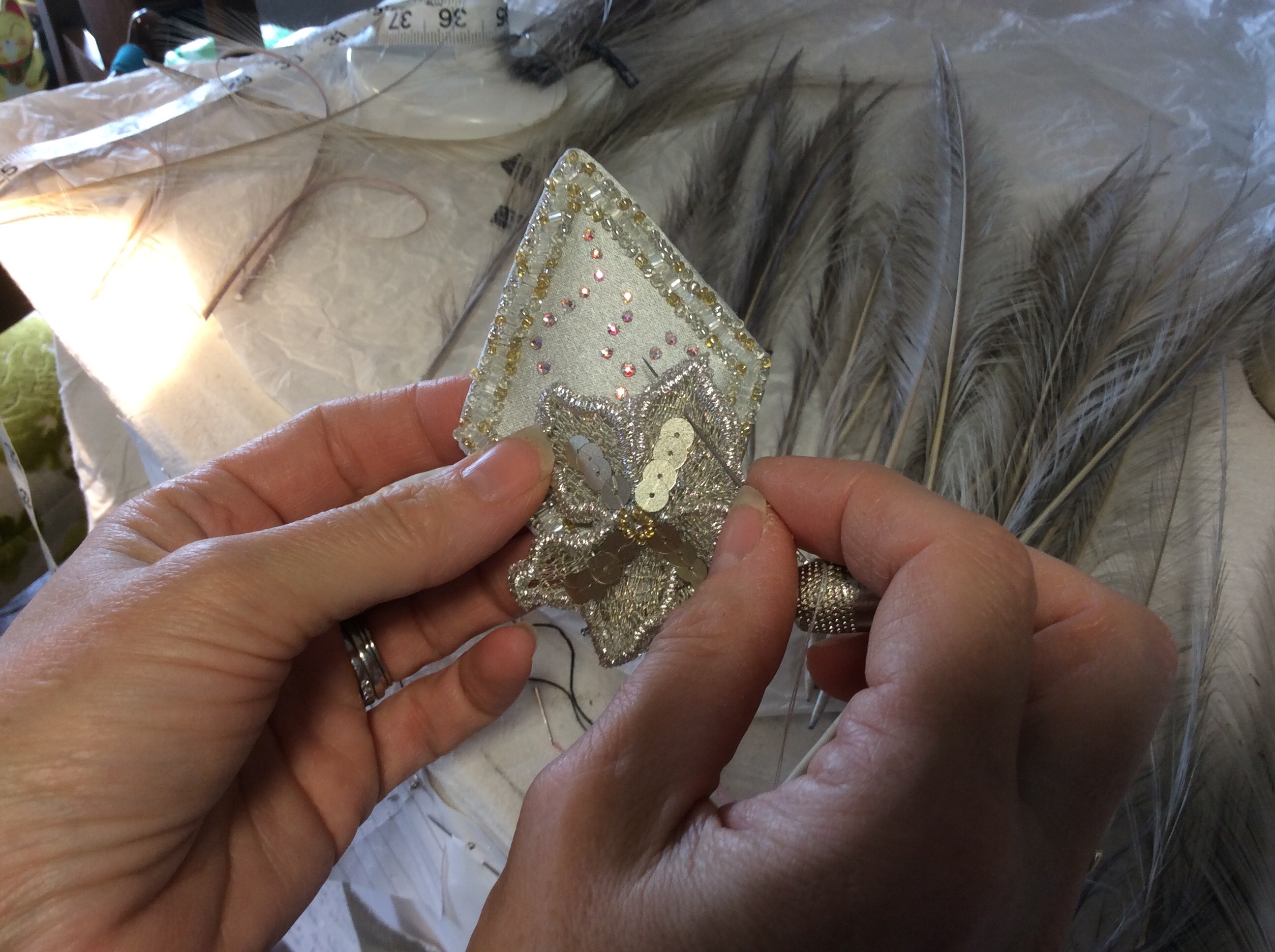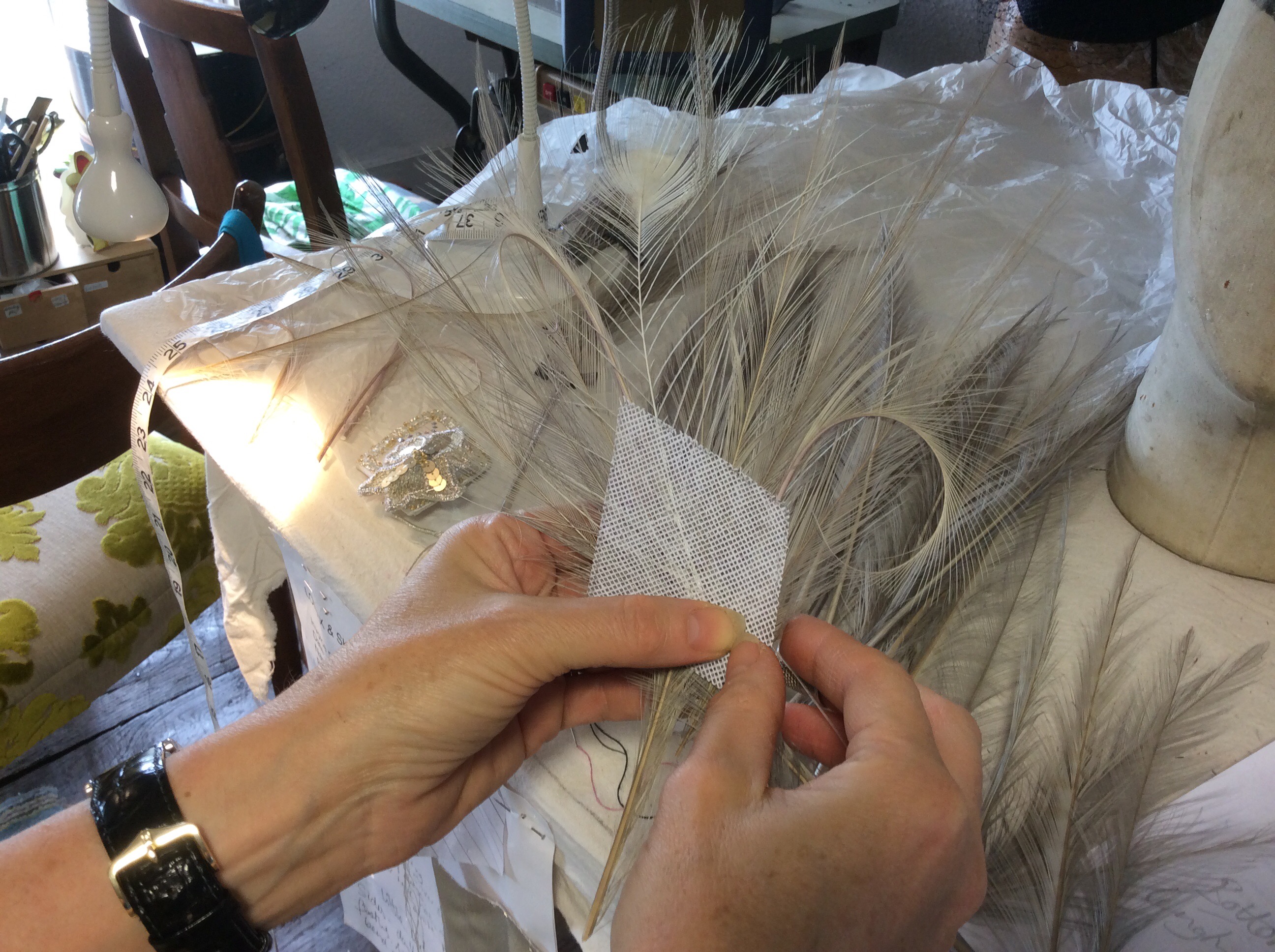 It's important to have a fitting to check the proportions so any adjustments can be made. An incredible 35 hours was spent making Catrina's headdress! But all worth it as Catrina was delighted and loved every minute wearing it which makes our day too. Many thanks to Catrina for sending us some photos of the day taken by Ben Joseph Photography.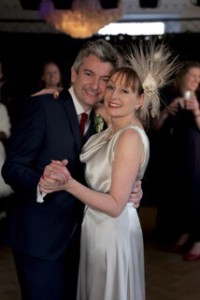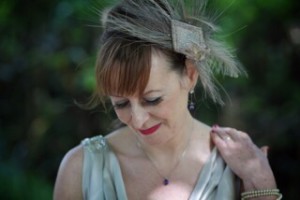 If you are like us, then your first thought on deciding on a day at the races is not to rush out and buy a copy of the Racing Post to mug up on form, but rather to start thinking about what to wear. Dress codes are strict at the grandest events in the racing calendar, and not following the dress code to the letter can mean you are not admitted to the enclosure for which you have a ticket.
Our advice is to plan your outfit in stages, starting with a dress and jacket, or similar, then shoes, and finally the finishing flourishes —your hat and handbag. Your milliner should be able to hand dye the materials and trimmings for your hat to match your outfit and shoes, so when going along for your first design consultation, make sure you bring the rest of your outfit to ensure a polished overall look.
We also advise that if you are planning a statement hat, then keep this in mind when choosing the rest of your outfit. Were you to opt for a large all-over print or bright feather textured jacket, then you might find you want to go for a more low-key hat when you come to have it designed. The job of a hat is to frame your face and give you confidence, not swamp you. So, if you would like a high impact hat, then you should probably keep the rest of your outfit understated. This also means you can restyle the clothing with a different hat for another occasion.
Ascot
Fancy dress or promotionally branded items are not permitted anywhere inside the grounds during the Royal Ascot meeting.
Royal Enclosure
Formal daywear is required for ladies in the Royal Enclosure.
Hemlines must fall on, or just above the knee
Trousers are not permitted
Strappy, halterneck and off the shoulder tops or dresses are not allowed. Straps must be one inch or greater in width
Your midriff must not be exposed
Jackets and shawls are allowed, but the outfit underneath must comply with the dress code
Fascinators are not allowed, and hats must now have a base of 4 inches or more in diameter. This means cocktail hats are permitted, but they must have a proper base of sinamay or similar. An insubstantial cocktail piece with only a headband base is not acceptable. We advise you ensure your milliner is aware of this requirement, as it is a new addition to the dress code.
For girls aged 10-16 formal dress is required, but a hat or is optional. A fascinator may also be worn.
Grandstand Admission
The rules are more relaxed for ladies in the grandstand enclosure, but ladies are still expected to dress formally, and a hat, headpiece or fascinator must be worn at all times. Strapless or sheer tops are not permitted and although trousers may be worn, but they must be full length and not paired with strapless or sheer tops, even under a jacket or shawl. As with the Royal Enclosure, midriff-baring tops are not allowed.
For girls aged 10-16, the dress code is the same as for the Royal Enclosure.
Silver Ring & Heath Enclosure
There is no formal dress code, but smart dress is encouraged.
Flat Season (May to October)
The general dress code for meetings outside of Royal Ascot is that ladies are encouraged to dress as for a smart occasion.

Epsom
Fancy dress is not permitted in the Queen's Stand or Duchess's Stand during the Investec Derby Festival.
Derby Day (Queen's Stand)
Ladies must wear formal day dress. Sleeveless vest are not permitted, and trousers must be full length and part of a tailored trouser suit. A hat or substantial fascinator must be worn.
Girls must be dressed smartly, but hats or fascinators are not required.
Ladies Day (Queen's Stand)
There are no set rules on outfit, but ladies are asked to wear a fascinator or hat. Casual clothing, such as sportswear, trainers or jeans is not allowed.
Girls should be dressed smartly, but headpieces are optional.
Derby Festival Grandstand Enclosure
Smart dress is requested, which means that sleeveless tops, midriff-baring tops, sportswear and trainers are not acceptable. Denim is allowed, but it must not be frayed or ripped.
Derby Festival Grandstand Hospitality
The rules are as above for the Grandstand Hospitality area, but ladies are requested to wear a hat or fascinator.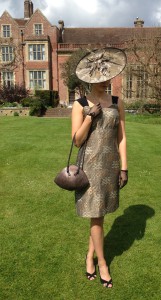 Glorious Goodwood
Goodwood is the most relaxed of the season's race meets, so there are few formal dress code requirements, but fancy dress is not permitted in any Enclosure.
Goodwood Fesitval
Richmond Enclosure
Ladies must dress smartly, and are encouraged to wear a hat or fascinator. Shorts, jeans and sportswear are not permitted.
Other Enclosures
There is no formal dress code, but flat or wedge-heeled shoes are recommended as there are grassy areas, and areas of decking to navigate.
Overall, the most important thing to remember when considering what to wear for Ascot, Epsom or Goodwood is to enjoy the process of planning. After all, there are not enough occasions left to get dressed up and enjoy a day of fun and finery, — with a flutter thrown in. So happy planning, and good luck on the day.