Customers
You may have seen one of our hats online or whilst out and about but you just can't get to our studio in Lewes. Do not worry there is so much we can do nowadays with technology, even buying a hat!
If you email us a picture of yourself in your outfit we can advise which hat shape will suit you and the occasion. If  your outfit is being made by a dressmaker it is likely we will be able to view it online and be sent photographs at every stage. If you would like we can use the material from the outfit for a perfect match. We also offer a hand dyeing colour matching service.
Many of our smaller cocktail pieces are attached to a hidden Alice band so the fit is universal but larger brim and crown hats  do need to be made in your own individual head size to ensure complete comfort on the day.
To take your head measurement, take a dressmakers tape measure around the head, at the level of your middle forehead, where you would wear a hat. It's very simple measurement to take but we would recommend having a friend to do it, it's tricky peering in the mirror with a tape measure trying to read what it says in reverse!
The customer in the picture above lives in Canada and emailed us to order a hat for her daughter's wedding taking place in the UK. She couldn't make it to our studio so everything was done by email and photographs, including the last minute change of colour to the trimming as her jacket hadn't arrived with the rest of her outfit and at the very last minute a new one had to be purchased.
When working with a customer we always start by looking at the dress design. Catrina Dunn's wedding dress was by Joanne Fleming Design. Catrinas dress echoed a 1930's era and was cut from the softest silver grey silk satin. The dress had a central panel of detailing in a diamond shape which was embroidered with bugle beads and Swarovski crystals.
During Catrina's first appointment with us she said she wanted her headdress to be a statement. For this to work with the dress and Catrina's small frame it was important to keep the piece soft and not too large. When designing I took inspiration from a large feathered leaf and the diamond shape on the dress combining the two together.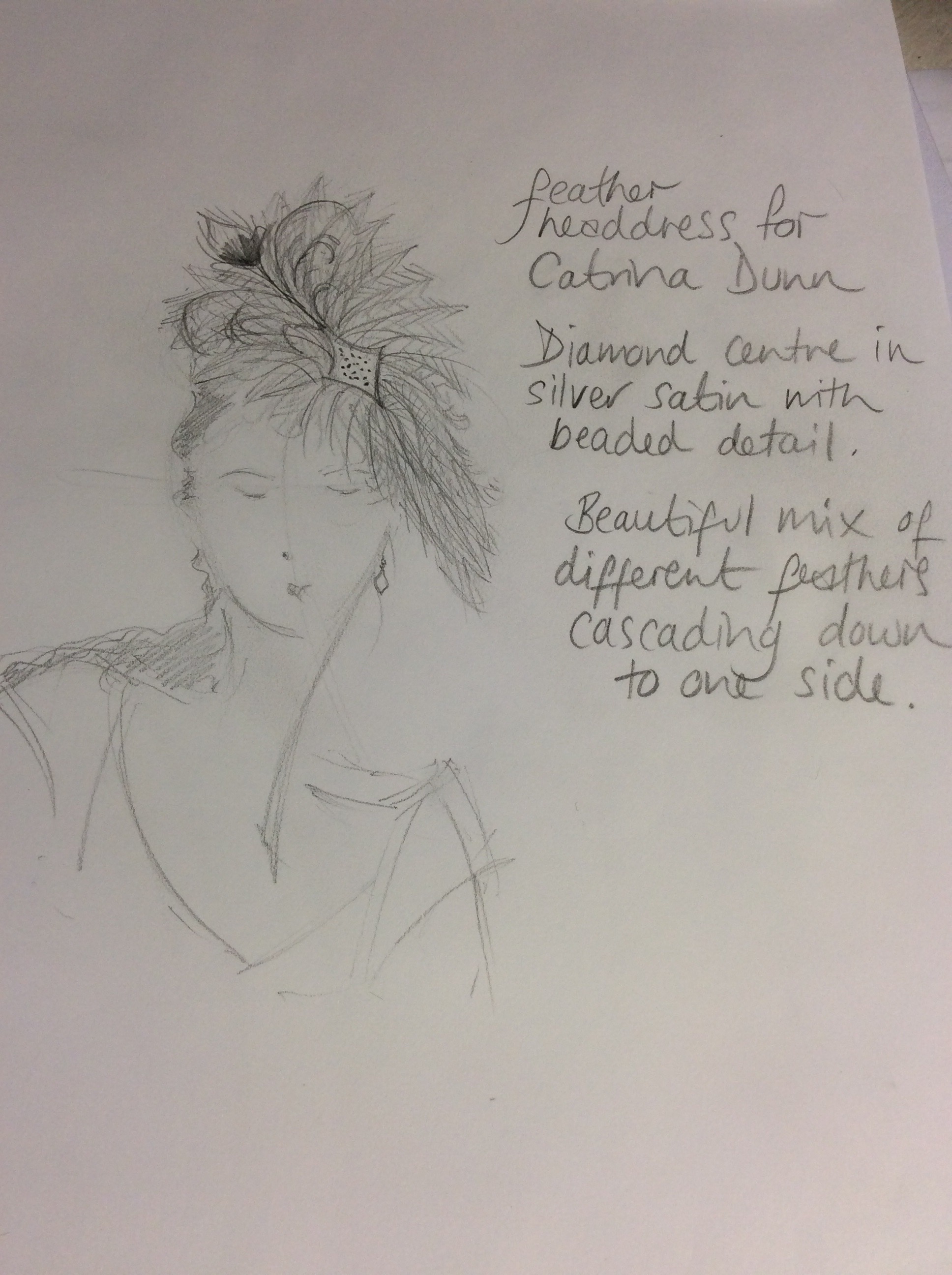 Four types of feathers were hand dyed to the palest shade to match the dress. A diamond shape was cut and covered in the silk and then hand sewn with beading, crystals and embroidery. Another diamond is cut to sew each individual feather on in various lengths to create the desired shape.  A layering technique was used as some of the feathers were not much thicker than hair.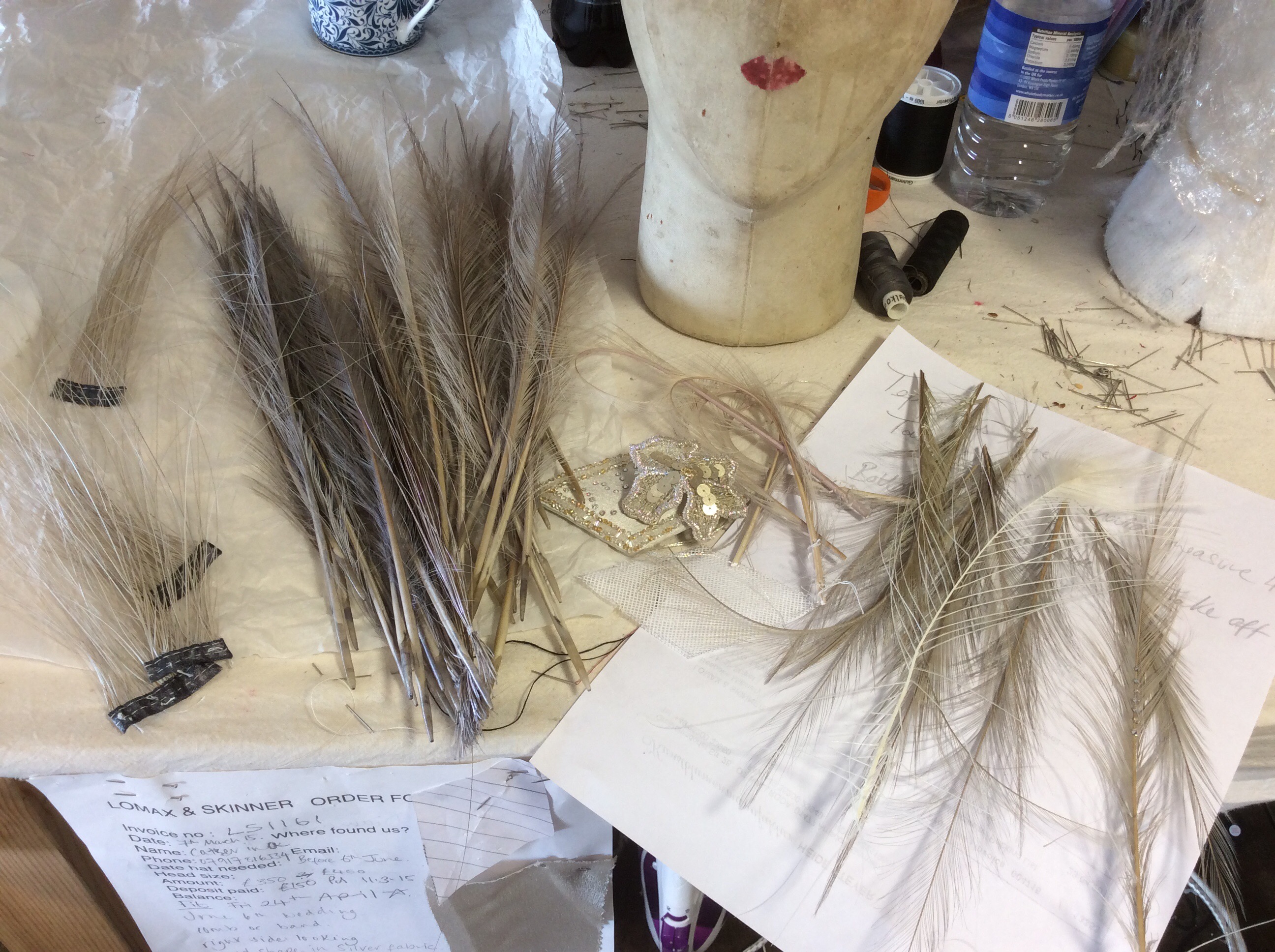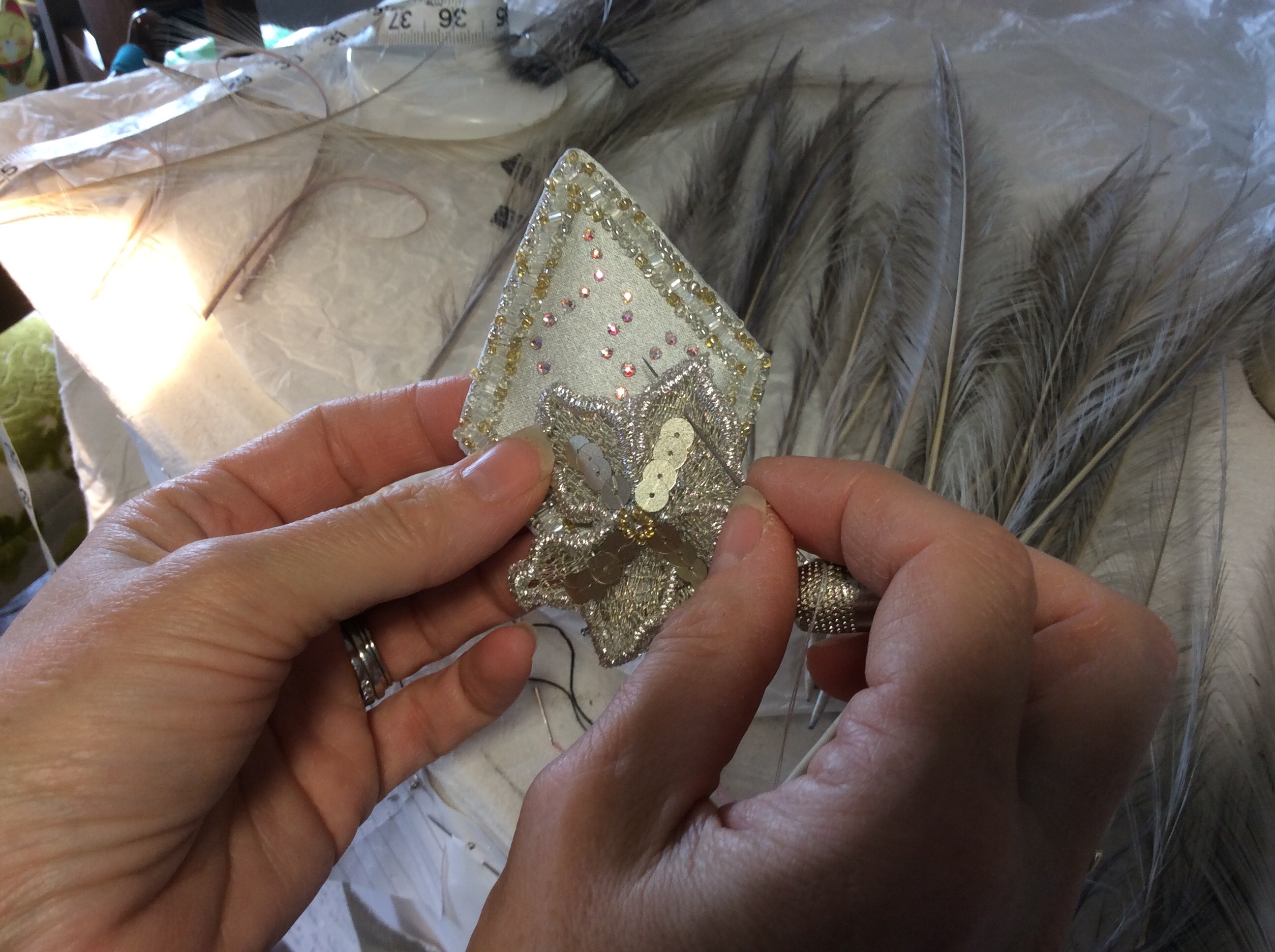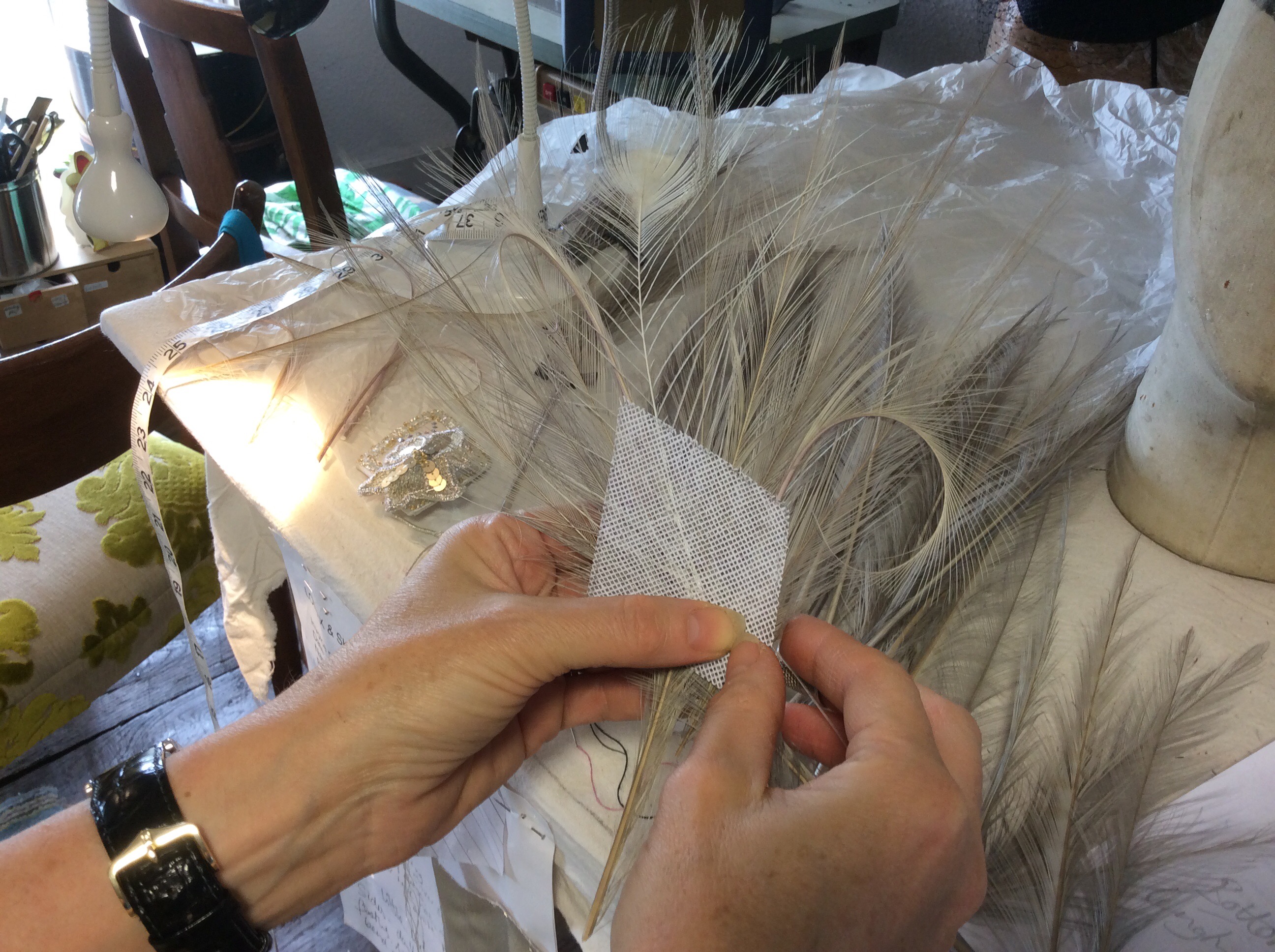 It's important to have a fitting to check the proportions so any adjustments can be made. An incredible 35 hours was spent making Catrina's headdress! But all worth it as Catrina was delighted and loved every minute wearing it which makes our day too. Many thanks to Catrina for sending us some photos of the day taken by Ben Joseph Photography.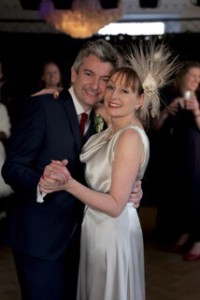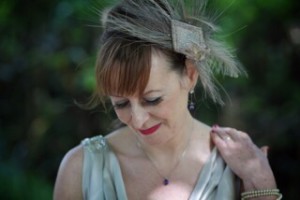 November the 5th is an important date in the calendar of events for Lewes the county town of East Sussex.
There are many bonfire societies that will be parading through the streets of Lewes on the night each with its own traditions and costumes. Six of which will end the night at their own respective firesites and have the most stunning firework displays.
This year we have had the pleasure of making a busby for a member of the Cliffe Bonfire Society who will be marching as one of The Queens Own 4th Hussars.
It's been an extremely enjoyable commission requiring lots of research to make it as historically correct as possible, including a trip to, and some valuable information from, the fantastic Redoubt Fortress in Eastbourne www.eastbournemuseums.co.uk. And also much sourcing of fur fabric, vintage gold braids and feathers for plumes. With a very successful result.
We would like to wish all the societies a happy Bonfire Season and to our customer, Success to the Cliffe !