Sarah
21st & 28th June 5th & 11th July 6pm – 9pm £180


Drawing inspiration from vintage styles learn a range of specialized construction and detailing techniques as you produce a beautiful fabric covered hat.
Working with flat patterns, buckram and millinery wire you will gain valuable millinery skills essential for developing your own pieces.
This course is suitable for both beginners and those wishing to refine existing skills.
This beautiful film by Cheng Han documents the putting together a couture fashion shoot. All gown production and styling is by Joanne Fleming Design.  Couture millinery by us!
Sinamay Fascinator
March 9th and 10th 10.00am-4.30pm £180
Block and wire sinamay to make a base for a fascinator. Complete with a curled quill and silk rose and you will finish this course with the perfect accessory for any summer event.

Sculpted Sinamay
April 14th and 21st 10.00am-4.30pm £180
Learn how to work with sinamay in a free and expressive way and create a beautiful and unique sculptural piece.
Thanks to Becky Weaver the editor of the downloadable monthly millinery magazine HATalk for the lovely review of our book in this months edition.
Becky interviews Rachel and the magazine also features one of the step-by-step projects from the book, our Felt Trilby
HATalk is an excellent resource for both beginners and experienced milliners, a place to meet, share and offer advice and guidance as well as being packed full of all things millinery. Also included this month is coverage of the 2017 Melbourne Cup Carnival and a feature on Kizzy McKeown, the creator of the HATalk Hat of the Month.
Please click on the below images to read the review.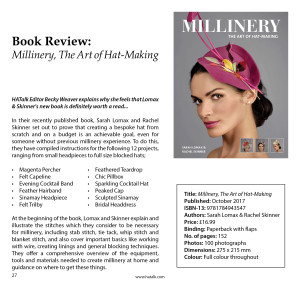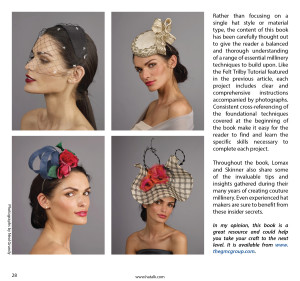 'Where Fashion meets Art' is a contemporary slant on how nature inspires and shapes art in a myriad of sublime forms.
Hosted in Susie Monnington's secret hideaway studio, this collaboration melds all that is best from the sussex countryside with the height of fashion through the form of bespoke millinery.
The juxtaposition of classical natural imagery and three dimensional fashion design is innovative and intriguing. The striking silhouettes of the Lomax & Skinner designed hats (art forms in themselves) against Susie's romantic water lily paintings adds an exciting dimension that wouldn't be out of place in a London gallery or on the catwalks of Milan.
This fresh take on exhibiting art leaves one breathless. If you see only one show this season, see this.
You may have seen one of our hats online or whilst out and about but you just can't get to our studio in Lewes. Do not worry there is so much we can do nowadays with technology, even buying a hat!
If you email us a picture of yourself in your outfit we can advise which hat shape will suit you and the occasion. If  your outfit is being made by a dressmaker it is likely we will be able to view it online and be sent photographs at every stage. If you would like we can use the material from the outfit for a perfect match. We also offer a hand dyeing colour matching service.
Many of our smaller cocktail pieces are attached to a hidden Alice band so the fit is universal but larger brim and crown hats  do need to be made in your own individual head size to ensure complete comfort on the day.
To take your head measurement, take a dressmakers tape measure around the head, at the level of your middle forehead, where you would wear a hat. It's very simple measurement to take but we would recommend having a friend to do it, it's tricky peering in the mirror with a tape measure trying to read what it says in reverse!
The customer in the picture above lives in Canada and emailed us to order a hat for her daughter's wedding taking place in the UK. She couldn't make it to our studio so everything was done by email and photographs, including the last minute change of colour to the trimming as her jacket hadn't arrived with the rest of her outfit and at the very last minute a new one had to be purchased.
November the 5th is an important date in the calendar of events for Lewes the county town of East Sussex.
There are many bonfire societies that will be parading through the streets of Lewes on the night each with its own traditions and costumes. Six of which will end the night at their own respective firesites and have the most stunning firework displays.
This year we have had the pleasure of making a busby for a member of the Cliffe Bonfire Society who will be marching as one of The Queens Own 4th Hussars.
It's been an extremely enjoyable commission requiring lots of research to make it as historically correct as possible, including a trip to, and some valuable information from, the fantastic Redoubt Fortress in Eastbourne www.eastbournemuseums.co.uk. And also much sourcing of fur fabric, vintage gold braids and feathers for plumes. With a very successful result.
We would like to wish all the societies a happy Bonfire Season and to our customer, Success to the Cliffe !